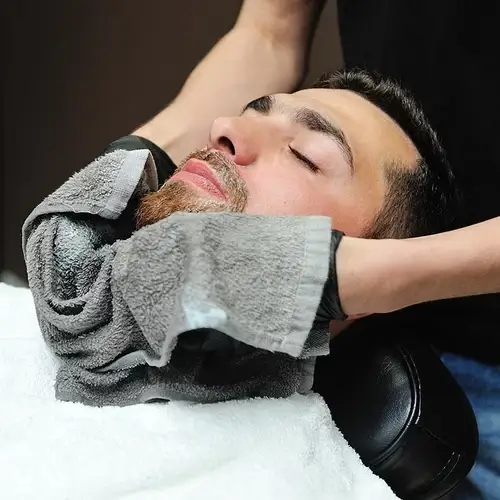 Royal Hot Towel Shave With Razor
Cheap razors are notorious for rashes, cuts, burns, etc. Our sharp blades give you the cleanest and closest shaves without skin irritation. Soothe and prep your skin with our hot towels and we'll take care of the rest!
Our Luxury Hot Towel Shave includes applying a unique beard softener with lanolin and vitamin E, as well as using avocado, coconut, or cucumber oil (on your choice) with a special facial massage.
35 MINS
Our Royal Hot Towel Shave Includes
Step 1: Shaving cream and a unique beard softener is applied to facial hair to soften skin.
Step 2: Hot cotton towel is placed over face to further soften and prep skin for shaving.
Step 3: Warm foam is applied to provide a barrier between straight razor and skin.
Step 4: Straight razor is used to give closest shave and keep face smooth.
Step 5: Hydrating oil is applied after with a special facial massage to moisturize skin after shaving and boost skin circulation.
Step 6: Razor touch-up is done again for any missed spots or leftover hairs.
Step 7: Hot cotton towel is placed again on face to reduce skin irritation.
Step 8: Cold cotton towel is placed over face after to close hair follicles and pores.
Step 9: Aftershave care is applied to help heal skin.
Royal Hot Towel Shave Care Products
Shop for the best moisturizing facial haircare products for the royal hot towel shave aka relaxing hot towel shave or royal shave. Come to Fifth Ave Barber Shop and pick your product or shop online.
1 W 35th St, New York, NY 10018
Our barber shop is conveniently located in Midtown NYC within walking distance of Macy's, Herald Square, Penn Station, and the Empire State Building. The nearest Subway station is 34th St Herald Square.