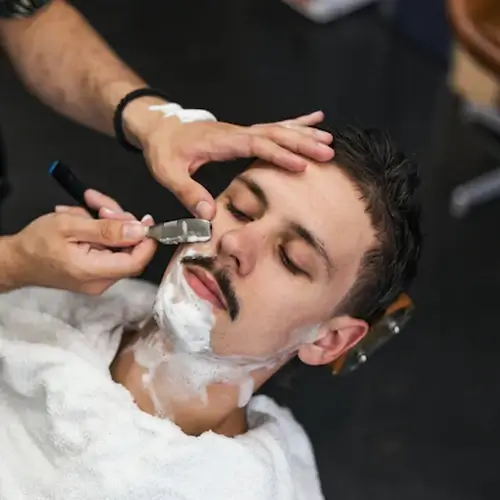 Hot Towel Shave With Razor
Hot towel shaves not only give you a relaxing experience but help your skin too. Stop giving yourself razor burns and cuts! Our barbers prep your skin and give you the closest shave without irritation.
20 MINS
Our Hot Towel Shave Includes
Step 1: Shaving cream is applied to facial hair to soften skin.
Step 2: Hot cotton towel is placed over face to further soften and prep skin for shaving.
Step 3: Warm foam is applied to provide a barrier between straight razor and skin.
Step 4: Straight razor is used to give closest shave and keep face smooth.
Step 5: Hot cotton towel is placed again on face to reduce skin irritation.
Step 6: Cold cotton towel is placed over face after to close hair follicles and pores.
Step 7: Aftershave care is applied to help heal skin.
Hot Towel Shave Care Products
Shop for the best moisturizing facial haircare products for the hot towel shave aka traditional wet shave. Come to Fifth Ave Barber Shop and pick your product or shop online.
1 W 35th St, New York, NY 10018
Our barber shop is conveniently located in Midtown NYC within walking distance of Macy's, Herald Square, Penn Station, and the Empire State Building. The nearest Subway station is 34th St Herald Square.