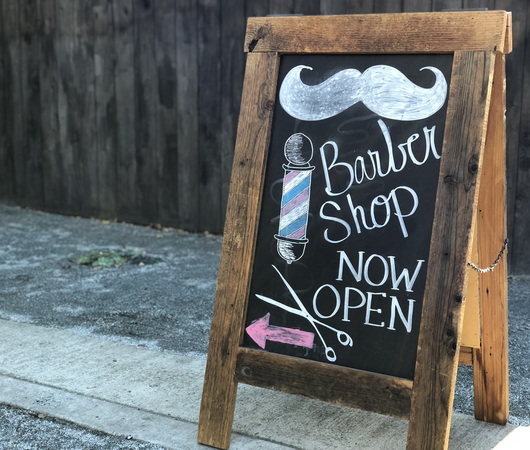 We are an award-winning full-service barbershop located in Midtown Manhattan, the heart of New York City. We have been in business for over 10 years.
The places where guys can feel comfortable and receive great services along with excellent grooming are always in demand and popular. Keeping this in mind, we decided to create a special barber shop where all the traditions of classical barbering will be preserved. Since 2011 our team has been serving clients from New York City and beyond.  Today Fifth Ave Barber Shop new york city is one of the best full service barber shops in New York and is located at 1 West 35th Street between Fifth and Sixth Avenue in New York City, Midtown one block from the Empire State Building, Madison Square Garden and New York Penn Station.
At our Fifth Avenue shop, experience begins when you walk through the door. We have created the perfect atmosphere where you can relax and get your desired haircut. The smell, the music, the décor – everything will take you back to a time when taking care how you looked was a part of being a man, a true gentleman. Take a seat in our cozy lounge, express your hair cut wishes to our barber and enjoy your time relaxing.
At our New York barbershop new york city, we focus on masculine tastes and needs. We take into account how important it is for you to look your stylish best whether at work, on a date or just going out on the town. Our barbers at Fifth Avenue Barber Shop are professionals who are constantly learning the latest trend in all spheres of men's services.
Our main goal is to get to know our clients and what they desire. You don't have to make any appointments, just visit us when you have time and one of our barbers will take care of you. No matter whether you're visiting us for the first time or have been with us for years, you will get high quality services with pleasurable results.
Have been going here for over 10 years and love the service and team. Steve has always been great to work with, a great and engaging crew and will continue to go back for haircuts as long as I'm living in NYC.
Been coming here for almost 10 years now, Robert is the best. He knows my hair and all of its weirdness. Great value, great cut and super friendly staff. The place is immaculate and the wait is never long. Highly recommended!
This is a great barber shop! The people were all super nice and I got a great haircut. It is centrally located right near the Empire State Building. 5 stars for the people, haircut and cleanness.
Such a good experience! Was in from out of town and was able to get in immediately. Good people and got a great fade.
I've been going to 5th Avenue Barber Shop for over a year. It's located near Macy's and Empire State so it's in a great location and easy to get to by any train. Steve does a great job every time. Would highly recommend this place!
It's not easy to find a good barber those days, you can just walk in and get your amazing hair cut with all safety at Covid time, ask for Robert for clean, style and fast haircut.