Men's Haircut & Grooming Midtown NYC
Don't look any further because you are in the perfect place to cut your hair! Fifth Avenue Barber Shop is the best place to cut your hair in Midtown, NYC. Our team of experienced barbers are happy to create hairstyles for Manhattan's residents and guests for over 10 years. Call us to make an appointment or walk in!
Take control of your appearance with a taper cut, side cut, or a standard cut. Let's go over your face shape/hairstyle and perfect your hair! Look and feel confident with a haircut from our professional barbers. 20 MINS

Low-maintenance yet fashionable, the fade haircut is trendy and one of the most requested hairstyles for men! Get a cut that tapers your sides and back, and bring an edge to your appearance. 20 MINS

Ditch the clippers and go for a more natural haircut like the scissor cut. Our professional barbers will contour your haircut to fit your face better with shear precision. Go for a more natural look! 20 MINS

Simple yet timeless, the classic crew cut is sophisticated with minimal fuss. A tapered hairstyle with the top cut short and the sides shorter, it is stylish, office-appropriate, and polished. 15 MINS

You got the classic crew cut, now take it one step further with a shape up! Emphasize your crew cut hairstyle with a more defined contour and hairline that frames your face. 20 MINS

Give your hair more depth with our long-layered haircut. Create seamless layers from short to long by our professional barbers with shear precision. Frame your face and add more life to that mane! 25 MINS

SHAPE UP / CLEAN UP

$15.00

Clean up your hairstyle before any big event with a shape up! Get your hair trimmed or sides evened/tapered without changing too much. It's a great way to touch up a hairstyle you're happy with. 10 MINS

Don't worry parents - we'll take it from here! Trust in our professional barbers to give your children the best haircuts with shear precision while being careful/attentive as well! 20 MINS

Don't let yourself look bad! Feel youthful and polished again with haircuts for our seniors and the elderly. Get a flattering hairstyle that not only touches up your style, but makes you look young too! 20 MINS
Show off that beautiful mane with our long hair cut! Whether adding layers for texture, or trimming it down - keep those long locks in your control. Our precise barbers will help lighten it up and let you rock it. 25-30 MINS
HOT TOWEL SHAVE WITH RAZOR

$25.00

Hot towel shaves not only give you a relaxing experience, but helps your skin too. Stop giving yourself razor burns and cuts! Our barbers prep your skin and give you the closest shave without irritation. 20 MINS

ROYAL HOT TOWEL SHAVE WITH RAZOR

$35.00

Cheap razors are notorious for rashes, cuts, burns, etc. Our sharp blades give you cleanest and closest shaves without skin irritation. Soothe and prep your skin with our hot towels and we'll take care of the rest! 35 MINS

An at-home razor just isn't going to cut it. Get the closest head shave with our sharp and precise blades done by professional barbers! We'll make sure nothing gets left behind. 25 MINS

Unruly beard? Trim and shape your beard with our classic beard trimming service. Ensure your beard contours and compliments your face every day with our precise scissors! 15 MINS

BEARD TRIM WITH RAZOR

$15.00

Take it one step further with our sharpest razor blades! Trim, shape and chisel your beard with more definition. Contour and shape your face for a clean look to take on the day. 20 MINS

Don't let your goatee go wild! Maintain your goatee with our trimming services. It's a classic beard type so make sure it's always trimmed and shaped to flatter your face! 10 MINS
Our barbers always recommend a hair wash. A thorough hair wash helps clean and condition your hair while prepping to cut and style your locks for an even and precise hairstyle everytime! 8 MINS
HAIRCUTS & GROOMING SERVICES
We are a full-service barbershop located in Midtown Manhattan. We have been in business for over 10 years.
Fifth Avenue Barber Shop is a fine example of a classical barbershop. However, we have evolved into much more than that. We started with a dream to bring back what was good about traditional barbershop. But in the process we created something entirely unique. As a result, you can observe a place with close customer relationships, remarkable atmosphere and friendly environment.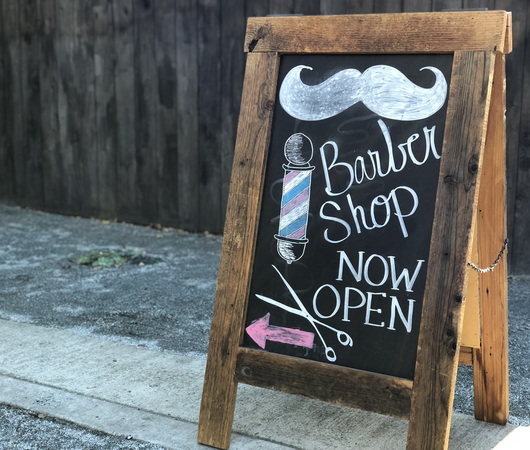 We provide a wide range of services dedicated to men's grooming. Our main services are regular haircuts, fades, long haircuts, special shaving, hot shaves, scissor cuts and more. Our barbers nyc utilize vintage tools for contemporary precision cuts as well as traditional barber services, including beard trimming and hot towel shaves. All our services are provided by knowledgeable and accommodating staff. We are the collaboration of talented barbers who care about you and your look. You may choose whatever service you want, and our professionals will perform it. We know how to cut your hair and give you the closest and most comfortable shave.
We pay strict attention to our customers' health. Our staff uses only high quality products that have been tested and certified.
We are always ready to give you a piece of advice about your hair cut, hair styles or any other service. Our barbers like the challenge of learning a client's likes and dislikes because to us barbering is an everyday learning experience. For professional barbers we are always interested in learning the latest trends in cuts and shaves. Our barbers nyc are always looking for ways of improving their skills and expanding their knowledge.
No matter what your look is like, a well-groomed man gets noticed. At Fifth Avenue Barber Shop, we specialize in getting you noticed. Visit our shop the next time you need a haircut or shave and you'll soon discover what makes us superior to other shops.